By: Steph Langdon, RD
May is #SaladMonth, June is #FreshFruitAndVegetablesMonth, and there's encouragement all year to make #HalfYourPlate full of colourful vegetables and fruit. With an abundance of produce available this time of year, eating fruit and vegetables should be a breeze. They're relatively quick to prepare and can be affordable when buying in season, canned or frozen varieties. However, taste and a lack of cooking skills tend to stop people in their tracks. Think vegetables and fruit don't or can't taste good? Think again!
Perhaps you've only tried a certain variety once. It might not be the choice for you, but fortunately there are a lot of choices out there. Flavours like mustard, which we know comes in many forms and for every palate (whole grain, sweet, spicy, etc.) can also help add the zip or zing you need to get excited about fresh produce this spring and summer.

According to StatsCanada, Canadians are not consuming enough vegetables and fruit and intakes have been declining. Females are also more likely to consume recommended amounts compared to males (c'mon guys!). The 2015-2020 Dietary Guidelines for Americans also point out eating patterns that are low in vegetables and fruit, for possibly 3/4 of the population! We're here to inspire you.
You don't have to overhaul your usual intake or spend hours in the kitchen when you'd rather be outside. Small changes throughout the day, week, month or year can make a big difference. This might mean a change to your shopping, food prep, snack options or recipe choices. Don't let it be overwhelming–let it be a flavour experience! We have some ideas to help make vegetables and fruit a tasty addition:
Make them the star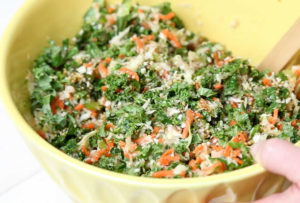 Meals don't have to be planned around meat. Make your salad into an entrée by adding grilled chicken, steak, shrimp, or beans and chickpeas to your vegetable dish. We have lots of ideas that are quick and easy to throw together and can serve as leftovers for the busy week ahead. Work on your chopping skills and add lots of colour to your meals with Mardi Gras Picnic Salad, Mustard Quinoa Salad or Mustard-Spiked Make Ahead Coleslaw, just to name a few.
Plan your sides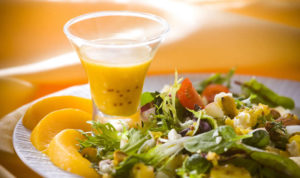 This time of year it seems easier to throw together a salad (without heating up the house) or to toss some on the grill (yes, both veggies and fruit!). Of course a tasty dressing or marinade can go a long way in terms of your enjoyment. Try our Basic Balsamic or Savoury Salad Dressing to start.
Snack on them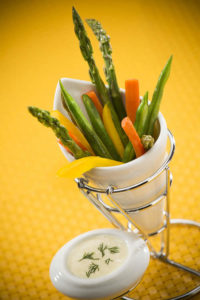 Having trouble getting enough in at mealtime? Include veggies and fruit in your snacks. Pack them in a cooler for road trips, picnics and days on-the-go. A bit of prep to wash and slice them at home will make them a quick and easy choice when hunger strikes. Dips can go a long way to help increase your intake. Try our Delicious Hummus for example.
Provide options
Enjoy the tastes of the season and items that are available locally. Don't be afraid to offer variety at meals and let people choose their toppings. This works well for sandwiches, wraps, pitas, pizzas, tacos and more. Our Vegetarian Quesadilla Made with Mustard is adaptable for a range of taste preferences.
Need more ideas? The Academy of Nutrition and Dietetics has 20 Ways to Enjoy More Fruits and Vegetables and we've got recipes like Everyone's Favourite Honey Dill Mustard Dip, Rojo Quinoa Ensalada, and Mexican Spicy Bean Salad in our Mustard Makeovers & More cookbook.