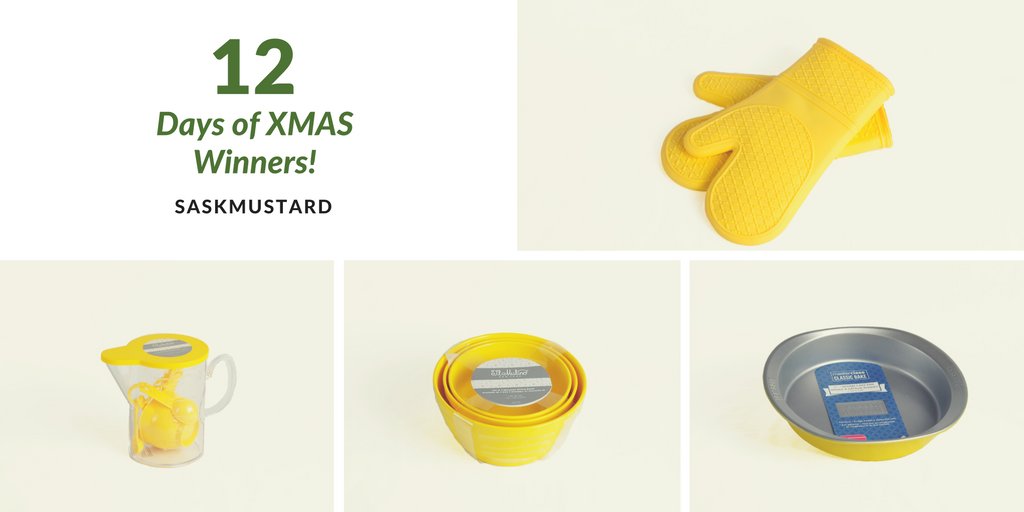 Congratulations to our #12DaysofXMAS Winners:
Day 1 winner: Jason Budd
Prize: A set of 3 mixing bowls, measuring cups & spoons
Day 2 winner: Dawn Fister
Prize: Silicone oven mitts x 2 & a 10″ round cake pan
Day 3 winner: Rose Gelsinger
Prize: Roasting pan & set
Day 4 winner: Josh Siemens
Prize: Fish platter (handcrafted in Portugal) & microplane
Day 5 winner: Janessa Porter
Prize: Swissmar cheese knives & a Gourmet Du Village brie baker
Day 6 winner: Jennifer Conlin
Prize: Chef Craft Premium Silicone utensils (set of 5)
Day 7 winner: Jennifer Fehr
Prize: Javelin cooking thermometer & classic bbq picnic pack
Day 8 winner: Sara McGregor
Prize: Kitchenaid food processor & hand blender
Day 9 winner: Mona Qaiser
Prize: Le Creuset Signature 1 3/4 Quart Saucepan
Day 10 winner: Nathan Szemberg
Prize: Zwilling J.A.Henckels Four Star Eight-­Piece Knife Block Set
Day 11 winner: Ed Davis
Prize: 3.8 L/4 Qt round Staub cocette
Day 12 winner: Brendan Hysuik
Prize: Grand Prize -­ Kitchenaid artisan mini stand mixer
Won for a friend: Heather Witherden
Prize: Kitchenaid hand mixer
 Thanks to everyone who entered!

Follow us on Twitter (@SKmustard) and Instagram (@SaskMustard).

The 12 Days of Xmas Giveaways are now closed to entries.
Thank you to everyone who entered.