Mustard is a Must … for Nutrition
Mustard's status as one of the world's oldest savory spices is only matched by well-known folklore of its health benefits.
However, mustard is an ancient seed that's anything but ancient history.
Mustard's nutritional profile boasts a low calorie count and a plentiful supply of essential minerals including calcium, iron, manganese, phosphorus, zinc, selenium and magnesium (the latter two being studied for their role in protecting against certain cancers, cardiovascular disease, inflammation, hypertension and diabetes). Mustard seed is about 25 percent protein but contains no cholesterol, and is a good source of the omega-3 fatty acids that may help decrease the risk of heart disease.
For today's dietician promoting healthy accoutrements to wholesome foods, mustard packs a punch with a functional and highly nutritious seed and greens that are tasty to munch! Tradition and innovation, ancient history and modern inspiration … mustard is a must!
Dietary Fibre
Mustard seed is an excellent source of soluble fibre in large part because of the gum on the seed coat of Yellow mustard. Early research seems to support the concept of using mustard gums to assist with lowering glycemic indexes. Incorporating mustard fibres may therefore aid in the management of blood sugar levels.
Glucosinolates
The same chemical compounds that give mustard its sharp spice taste may also contribute to its cancer fighting potential. Animal test have suggested that mustard exerts its anti-cancer effect by triggering enzymes to detoxify and by changing the way the body's defense mechanism works.
Selenium
Mustard seeds are a very good source of selenium. This is a trace mineral that research suggests affects cancer risk in a couple of ways. Selenium may prevent or slow cancer growth rates. In addition, as an anti-oxidant, it may protect against free radicals.
Other Nutrients
Mustard is a good source of magnesium. This trace mineral is connected to everything from reduced blood pressure, asthma relief to sleep relief for menopausal women. In addition to being a very good source of omega-3 fatty acids it also supplies tyryptophan, phosphorus, iron and protein.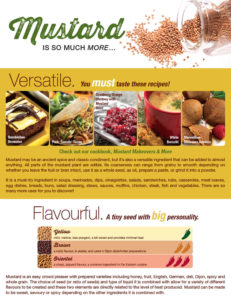 Versatile, Flavourful and Healthy: Mustard is so much more.
Download this useful 2-page flyer (pdf) from SaskMustard here.