By: Dani vanDriel, Sask Mustard
For most of my life, my relationship with mustard seed was to observe their little swirling remains after they'd finished their stint in the pickle jar. Poor little mustard seed – or five! I guess I'd relegated it to part of the pickling potpourri, always in a mélange, never really distinctive or standing alone. And I hadn't considered the seed to be nearly as interesting as mustard preparations. Distant cousins, if that, in my mind.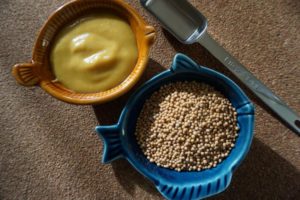 But I've grown and I have found true love. I love mustard wholly and deeply – seeds, sprouts, squirts and all! Like any mustard lover out there, I have a bin of mustard treasures in my fridge, including a few jars of rubbing spice. But I only fully realized my commitment to mustard seed when I tasted my first mustard seed cookie.
What?  A cookie?
Oh yeah. And this is my kind of cookie! Each dropped mound, spreads out thick and chewy. It has lots of texture and a complex warm flavor, kind of earthy and peppery. Better yet, it's a sturdy cookie. It doesn't shatter or crumble, it stays together yet holds its moisture until the last one gets shared (or not). Furthermore, it's a fun cookie to share because when you tell people that a batch contains 5 (or six, if you throw in extra, like me) tablespoons of mustard, you've got their attention! How fun is that?
The honey mustard lends to the warm flavours in the dough, but I think it's the great amount of seed you get in every bite that wakes you up. Not only are the seeds pleasantly spicy but they add a great pop-crunch. (FYI, mustard seed is nutritious, and is considered an excellent source of selenium, a micronutrient that plays an important role in our health. But that's not why we enjoy cookies, right?)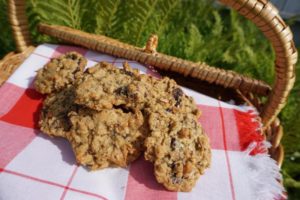 Best of all, it's the perfect cookie to travel with. Fishing trips, bike rides, golf games, or the picnic basket, this yummy treat also doubles as somewhat of a nutritious energy booster with its oaty, fruity goodness (which is why I like to bring them out when my golf game starts to go south for lack of focus, around the 10th hole).
I use rounded tablespoons of seed when I make them, and I often mix yellow mustard seed with any other variety (brown or oriental) that I have on hand. Brown and oriental mustard seeds are more pungent and that boldness comes through in the flavour. Make sure you at least taste the seed first to see if you like the level of pungency/heat. Me? I like'em with bite!
As for baking, like any cookie, I watch the first batch in the oven very closely and take them out when the centers still yield slightly to a light press with my finger. I usually time how long it takes to bake the first tray, and then I set my timer accordingly for the remaining; 11-13 minutes works for my oven.
Recipe from page 149 of Mustard Makeovers and More. Get your copy today for 100 Marvellous Recipes for Busy Families and unique ways to use mustard, like these Chewy Spicy Raisin Oatmeal Cookies!