We may be ending #BarbecueMonth, but it feels like BBQ season is just starting. Along with outdoor cooking and warm weather, mustard is a must for spring and summer. Whether you're loading up your hot dog, making potato salad, whisking together a salad dressing or whipping up a dip, our favourite condiment makes for a flavourful season!
May is #HamburgerMonth and June is #TurkeyLoversMonth so our Turkey Sliders just feel right! While Hamburg did play a part in the history of hamburgers, it seems that minced or chopped beef was the American trademark, followed by the addition of a bun. Today's burgers come with a variety of toppings and patties made from more than just beef, such as ground turkey in our sliders.
If you're itching for some new burger ideas, look no further than our Burgers, Hot Dogs & Sausages board on Pinterest.

We want to congratulate our April 'Mustard Happens' apron winners and thank all those that participated. Enjoy your prizes:
June Simmons
Michelle Austin
Luzy Gunter-Smith
Joy Mills
Francine Gibson
For the giveaway, we asked people to tell us their favourite way to enjoy mustard. A few comments we heard were:
"I add mustard when making up batches of egg and tuna salad."
"My hot dogs must have lots and lots of mustard!"
"The adult version of my childhood lunch – grilled cheese – dijon mustard & cheddar cheese on sourdough bread, with a side of sweet mixed pickles."
"A hot dog is a hot dog when it's covered with mustard."
"My favourite way to enjoy mustard is in a ham sandwich. Oh, yum!"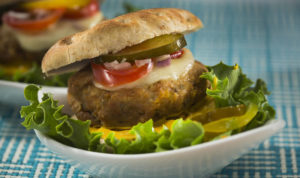 Now, back to the grill! Featuring ground turkey patties topped with tomato and cheese, these sliders are great on either a wheat bun or pita. Enjoy with Mary's Potato Salad and you're set.