This recipe creates a cookie packed with energy. Change up the fruit mixture to accommodate your likes.
Prep time: 30 minutes Serves: 2 dozen (24 servings)
Ingredients
Flour mixture
1 1/2 cups / 375 ml all purpose flour
1 tsp / 5 ml baking soda
1 tsp / 5 ml baking powder
1 1/2 tsp / 7 ml kosher salt
2 tbsp / 25 ml yellow mustard seed
Creamed mixture
1 cup / 250 ml unsalted butter, softened
1 cup / 250 ml granulated sugar
1 cup / 250 ml packed dark brown sugar
2 large eggs
2 tsp / 10 ml vanilla
3 tbsp / 45 ml honey mustard
Fruit mixture
2 1/2 cups / 625 ml rolled oats (not instant)
1 1/2 cups / 375 ml dried, unsweetened cranberries
1/2 cup / 125 ml unsweetened shredded coconut
1 cup / 250 ml salty chopped nuts (salty peanuts, pecans, cashews work well)
1 cup / 250 ml semi-sweet chocolate chips
Instructions
Preheat oven to 350°F (180°C).
Whisk together flour, baking soda, baking powder, salt and mustard seed. Set aside.
Combine butter, sugars, eggs, vanilla and honey mustard with a hand-mixer, on low, increasing speed to high and beat until fluffy and colour lightens.
Stir flour mixture into creamed mixture, until no flour is visible. (Over-mixing results in a tough cookie.)
In separate bowl, mix together oats, cranberries, coconut, nuts and chocolate chips.
Add fruit mixture to batter and stir.
Onto a baking sheet sprayed with non-stick cooking spray, drop tablespoons (15 ml) of batter 2 inches (5 cm) apart.
Bake 11-13 minutes (on centre rack) until golden and cookie is still moist beneath cracks on top.
Remove from oven. Let cookies sit on baking sheet for 2 minutes, before transferring to a wire rack to cool.
Store in an airtight container for up to 3 days or freeze up to 3 months.
Per serving (75.1 g): 320.73 Calories, 5.45 g protein, 42.58 g carbohydrate, 3.18 g fibre, 26.67 g sugar, 16.42 g fat, 8.29 g saturated fat, 0.33 g trans fat, 37.07 mg cholesterol, 244.58 mg sodium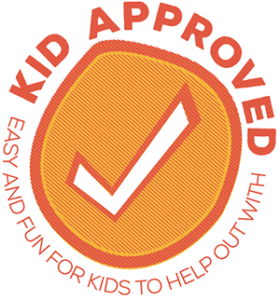 Use a timer to prevent cookies from becoming too brown or burning.
This and other great recipes can be found in Mustard Makeovers & More! 100 Marvellous Recipes for Busy Families available here from Amazon.ca.
Recipe Information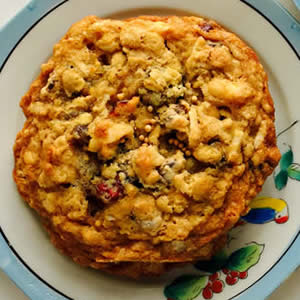 Recipe Name
Sweet & Savoury Mustard Cranberry Cookies
Recipe Author
Published On
Preparation Time
Cook Time
Total Time