https://www.youtube.com/watch?v=yErKg2P3qyQ
Prep time: 20 minutes
Makes: 48 bite-sized pieces or 24 bars
Serves: 24 (2 bite-size or 1 bar/serving)
Dry Ingredients
1 1/3 cups / 325 ml quick cooking oats
1/3 cup / 75 ml chopped dried fruit (cherries, mixed berries, etc.)
1/3 cup / 75 ml dark chocolate chunks
1/3 cup / 75 ml slivered almonds, toasted
1/3 cup / 75 ml sunflower seeds, toasted
1/3 cup / 75 ml pumpkin seeds, toasted
1/3 cup / 75 ml unsweetened coconut
1/3 cup / 75 ml sesame seeds, toasted
Wet Ingredients
1/3 cup / 75 ml prepared yellow mustard
1/3 cup / 75 ml creamed honey
1/3 cup / 75 ml packed brown sugar
2/3 cup / 150 ml almond butter
1 tsp / 5 ml cinnamon
Instructions
Spray 8 inch x 12 inch (20 cm x 30 cm) pan with non-stick cooking spray and set aside.
Dry ingredients: In large bowl, combine oats, dried fruit, chocolate, almonds, sunflower seeds, pumpkin seeds, coconut and sesame seeds.
Wet ingredients: In separate deep microwave safe bowl, combine mustard, honey and sugar. Stir to combine. Microwave on high for 2 minutes and 30 seconds, stirring half-way through.
Add almond butter and cinnamon. Stir well.
Pour wet ingredients over dry ingredients, mixing well to coat.
Spread mixture into prepared pan, using lightly oiled fingers to pat down.
Let cool 2 hours or longer in refrigerator before cutting and wrapping.
For individual bite-sized portions, cut 8 times lengthwise and 6 times crosswise. Wrap each in 4 inch x 5 inch (10 cm x 12.5 cm) pieces of wax paper.
For bars, cut 4 times lengthwise and 6 times crosswise. Wrap each in 5 inch x 6 inch (12.5 cm x 15 cm) pieces of wax paper.
Store wrapped pieces in container in refrigerator.
Variations:
Dried fruit can include mixed berries, such as dried cherries, cranberries and blueberries. Raisins can also be substituted.
Peanut butter can be substituted for almond butter.
A 9 inch x 13 inch (22 cm x 33 cm) pan can be used with using the same cutting technique.
Per serving (34.14 g): 149.32 Calories, 3.78 g protein, 15.73 g carbohydrate, 2.78 g fibre, 6.86 g sugar, 8.83 g fat, 1.82 g saturated fat, 0 g trans fat, 0 mg cholesterol, 55.47 mg sodium
This and other great recipes can be found in our Inspired by Mustard Recipe Book available for download here.
Recipe Information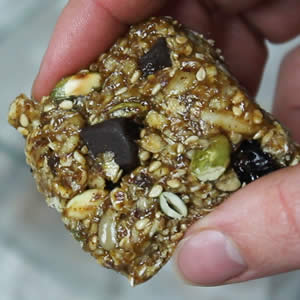 Recipe Name
Recipe Author
Published On
Preparation Time