Who doesn't like to munch? Great for sports nights too!
Prep time: 30 minutes Serves: 4 (about 1/2 cup / 125 ml/serving)
Ingredients
1 cup / 250 ml Shreddies-type cereal
1 cup / 250 ml small pretzels
1/2 cup / 125 ml peanuts, roasted and unsalted
1 tbsp / 15 ml unsalted butter, melted
2 tbsp / 25 ml prepared yellow mustard
1 tbsp / 15 ml honey
1/4 tsp / 1 ml garlic powder
1/4 tsp / 1 ml onion powder
Instructions
Preheat oven to 300°F (150°C).
In large bowl, combine cereal, pretzels and peanuts. Set aside.
In separate bowl, mix butter, mustard, honey, garlic and onion powders until well blended. Drizzle over cereal mixture and toss to coat.
Spread mixture on baking sheet. Bake for 15-20 minutes, mixing and stirring every 5 minutes. Cool completely before serving.
Store in airtight container for up to 5 days.
Per serving (158.16 g): 610.04 Calories, 18.38 g protein, 108.33 g carbohydrate, 11.04 g fibre, 6.04 g sugar, 15.65 g fat, 37.0 g saturated fat, 0.12 g trans fat, 7.74 mg cholesterol, 924.53 mg sodium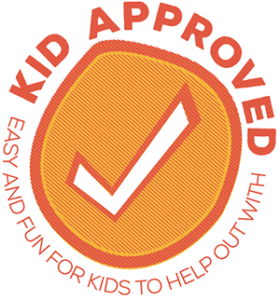 Measuring the dry ingredients is as important a job as tossing is. Mom or Dad can handle the baking process.
This and other great recipes can be found in Mustard Makeovers & More! 100 Marvellous Recipes for Busy Families available here from Amazon.ca.
Recipe Information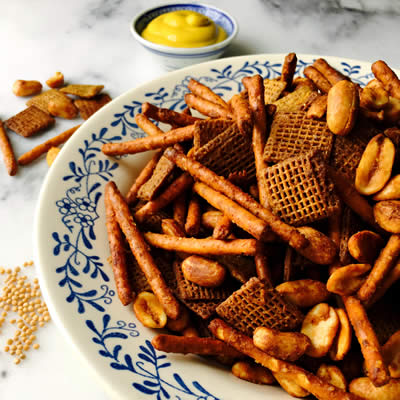 Recipe Name
Recipe Author
Published On
Preparation Time
Cook Time
Total Time