Fudgy, yummy brownies… this recipe will certainly be a repeat request for family members.
Watch Renee Kohlman make this recipe with Jeff Rogstad on CTV Saskatoon.
Ingredients
250 ml (1 cup) granulated sugar
75 ml (1/3 cup) salt free, non hydrogenated tub margarine
50 ml (¼ cup) buttermilk
25 ml (2 tbsp) honey mustard
175 ml ¾ cup) cocoa
2 large eggs, lightly beaten
10 ml (2 tsp) vanilla
300 ml (1 ¼ cups) all purpose flour
2 ml (¼ tsp) baking soda
250 g (8 oz) low fat cream cheese
25 ml (2 tbsp) buttermilk
25 ml (2 tbsp) honey mustard
25 ml (2 tbsp) creamed honey
75 ml (1/3 cup) semi sweet chocolate chips
Instructions
Brownies
Preheat oven to 350°F (180°C).
Lightly spray 9 inch x 13 inch (22 cm x 34 cm) baking pan with non-stick cooking spray.
In medium saucepan, combine sugar, margarine, buttermilk, mustard and cocoa. Cook and stir over medium heat until it comes to boil. Immediately remove from heat.
Stir in eggs and vanilla.
Mix in flour and baking soda just until combined.
Spoon batter into pan and bake for 16-18 minutes or until brownies are set when lightly pressed on top with finger. (They should still look wet on top and be a bit tacky to the touch.)
Remove from oven. Cool well on wire rack.
Icing
In a bowl, combine cream cheese, buttermilk, mustard and honey. Using an electric mixer, beat until creamy. Spread on cooled brownies.
In small, microwave-safe bowl, melt chocolate chips on high, uncovered, stirring every 20 seconds until melted and smooth.
Spoon into a plastic sandwich bag or snack bag. Cut small tip off the corner of the bag and gently squeeze lines back and forth over brownies.
Cut brownies 4 lengthwise and 6 across forming 24 squares.
Brownies can be stored in airtight container for up to 3 days or frozen for up to 3 months.
Prep Time: 1 1/2 hours
Serves 24
Per serving (44.29 g): 136.80 Calories, 2.85 g protein, 18.71 g carbohydrate, 0.99 g fibre, 11.71 g sugar, 5.80 g fat, 2.22 g saturated fat, 0.21 g trans fat, 21.41 mg cholesterol, 118.71 mg sodium
This and other great recipes can be found in Mustard Makeovers & More! 100 Marvellous Recipes for Busy Families available here from Amazon.ca.
Recipe Information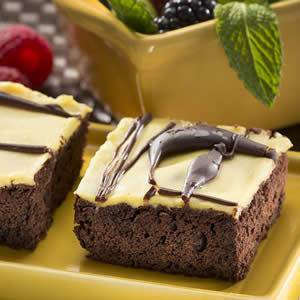 Recipe Name
Recipe Author
Published On
Total Time
Average Rating





Based on 1 Review(s)