Make it a Meal: This bacon is versatile. Serve as a decadent brunch side dish along with sweet seasonal melon and toasted Seed Bread. Or crumble and add to spinach greens dressed with Basic Balsamic Salad Dressing.
Serves: 4
Ingredients
8 slices, lean, thick sliced bacon, about 1/2 lb (250 g)
1 1/2 tsp (7 ml) dry mustard powder
1 1/2 tsp (7 ml) brown sugar
1 tsp (5 ml) freshly ground black pepper
Instructions
Preheat oven to 350º F (180º C).
Line a 13 inch x 9 inch (34 cm x 22 cm) baking sheet with foil and place bacon strips on baking sheet.
In a small bowl, combine mustard, brown sugar and pepper.
Sprinkle each bacon strip with 1/2 tsp (2 ml) of mustard mixture.
Bake 12 minutes or until golden brown and bubbling on top and edges are ruffled, or until desired crispness is achieved.
Per serving (48.6 g): 217.7 calories, 5.1 g protein, 2.4 g carbohydrate, 0.1 g fibre, 1.6 g sugar, 20.7 g fat, 11.7 g saturated fat, 0 g trans fat, 30.4 mg cholesterol
Recipe Information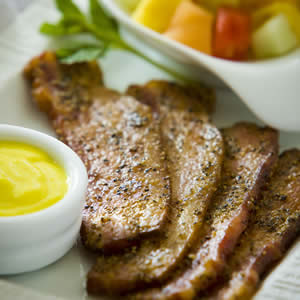 Recipe Name
Sugar & Spice Baked Bacon
Recipe Author
Published On