Serve with fresh vegetables, salad or Polish refrigerator pickles.
Prep time: 25 minutes Serves: 4
Ingredients
1/2 cup / 125 ml fresh or frozen cranberries, coarsely chopped
1/4 cup / 50 ml honey mustard
2 tbsp / 25 ml minced red onion
1 tsp / 5 ml balsamic vinegar
2 tsp / 10 ml packed brown sugar
2 panini
1 tsp / 5 ml olive oil
4 oz / 125 g smoked gouda cheese, sliced or grated
8 oz / 250 g sliced roast turkey breast
to taste black pepper
Instructions
In microwave-safe container combine cranberries, mustard, onion, vinegar and sugar. Mix well.
Cook at 100% power for 1 1/2 minutes. Stir, cook another 1/2 minute, stir.
Lay flatbread on countertop, drizzle 1/2 tsp (2 ml) oil over each. With fingers, spread oil over bread. Flip bread over, put 1/4 of the cheese over half of each bread.
Divide turkey between the two flatbreads on top of cheese.
Divide and spread cranberry butter over turkey. Sprinkle pepper over sandwiches to taste. Top with remaining cheese. Fold flatbread over to cover toppings.
Grill at 325°F (170°C) for 3 minutes in a panini maker until cheese is melted. Cut in half crosswise.
A non-stick fry pan heated over medium heat can also be used. Heat sandwich 3 minutes per side, periodically pressing down on top of the sandwich with spatula.
Per serving (283.96 g): 670.44 Calories, 37.82 g protein, 89.81 g carbohydrate, 3.95 g fibre, 17.05 g sugar, 19.18 g fat, 7.41 g saturated fat, 0.01 g trans fat, 74.77 mg cholesterol, 1175.49 mg sodium
This and other great recipes can be found in Mustard Makeovers & More! 100 Marvellous Recipes for Busy Families available here from Amazon.ca.
Recipe Information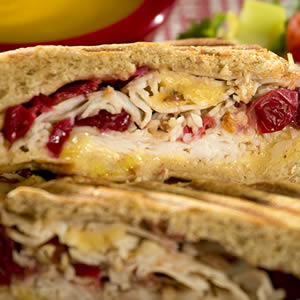 Recipe Name
Turkey & Smoked Gouda Panini with Cranberry Butter
Recipe Author
Published On
Preparation Time
Total Time