Meat loaf never goes out of style! This recipe pairs maple syrup and mustard to elevate the dish to company quality!
Watch Judy Foodie demonstrate this recipe here.
Prep time: 1 hour, 15 minutes  Serves: 6 (1 slice/serving)
Ingredients
Meat loaf
1 cup / 250 ml bread crumbs
1 cup / 250 ml skim milk
1 1/2 lb / 700 g ground beef
1 yellow cooking onion, finely chopped
1 large egg
1/3 cup / 75 ml grainy mustard (with whole seed)
1/3 cup / 75 ml quick cooking oats
2 tbsp / 25 ml dried parsley
5 cloves garlic, minced
1 tsp / 5 ml black pepper
1 tsp / 5 ml salt
Glaze
1 tbsp / 15 ml maple syrup
1 tbsp / 15 ml grainy mustard (with whole seed)
Instructions
Preheat oven to 375°F (175°C).
Meat loaf: In small bowl, combine bread crumbs and milk. Let stand 2 minutes or until bread crumbs absorb milk.
In large bowl, mix ground beef with bread crumb mixture, onion, egg, mustard, oats, parsley, garlic, pepper and salt.
Pack mixture into a 2 quart (2 L) loaf pan and bake for 1 hour or until centre of meat loaf reaches 160°F (71°C). (Use a thermometer to check temperature.)
Remove from oven and let stand 5 minutes. Remove from pan and place on platter.
Glaze: In small bowl, mix maple syrup and mustard. Glaze cooked meat loaf. Allow it to rest for 10-15 minutes before serving. Cut into 6 slices.
Per serving (232.1 g): 369.61 Calories, 28.85 g protein, 25.26 g carbohydrate, 2.33 g fi bre, 6.26 g sugar, 16.99 g fat, 6.33 g saturated fat, 0.88 g trans fat, 73.20 mg cholesterol, 740.74 mg sodium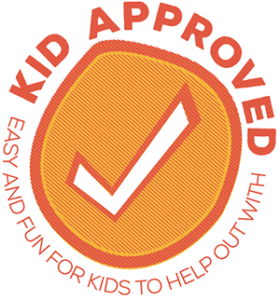 Kids can mix the meat mixture and put into the loaf pan. Remember to wash hands before and after working with meat.
These and other great recipes can be found in Mustard Makeovers & More! 100 Marvellous Recipes for Busy Families available here from Amazon.ca.