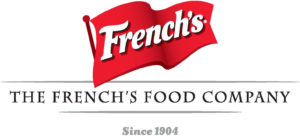 Sask Mustard and Farm & Food Care Saskatchewan were pleased to welcome Chef Graham Hayes to Saskatchewan this July. Hayes is Corporate Chef for French's Food Company in Canada. In addition to two television segments on CTV Saskatoon, Chef Hayes led a cooking demonstration at the Farm & Food Care Chef's Stage during Taste of Saskatchewan. Festival goers were delighted to have a taste of Chef Hayes' Mustard Sweet Chili Glazed Chicken.
Ingredients
6x 4oz chicken thighs
125 ml French's yellow deli mustard
50 ml Frank's Red Hot Sweet Chili Sauce
20 ml maple syrup
Garnish with micro-greens tossed in a sesame vinaigrette.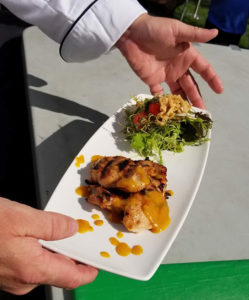 Method
Mix the mustard, maple syrup and the sweet chili sauce together and keep in a bowl.
Take 1/3 of the mustard mix and marinate the chicken thighs in it for 24 hours.
Place the chicken on a heated barbecue and cook for approximately 6 minutes each side, turning frequently and brushing with the rest of the marinade.
When chicken has reached an internal temperature of 178º F (81ºC), remove and let rest for 2 mins.
Serve with the micro-green salad.
As seen demonstrated on the Farm & Food Care Saskatchewan Chef's Series stage at Taste of Saskatchewan, July 13, 2017 at 4:00 PM by French's Corporate Chef, Graham Hayes.
For more information on Farm & Food Care Saskatchewan, visit farmfoodcaresk.org. For more French's recipes, visit frenchs.ca.