Try side dishes such as cured meats, olives, or fresh peppers to contrast the richness of the cheese.
Serves: 6
Ingredients
4 cups (1 L) Emmental cheese, cubed
3 cups (750 ml) Gruyère cheese, cubed
2 cups (500 ml) dry white wine
2 tbsp (25 ml) cornstarch
2 tbsp (25 ml) cold water
1 clove garlic, minced
2 pinches nutmeg
4 tbsp (60 ml) whole mustard seed, ground coarsely
48 oz (1440 g) rustic bread, cut into 1 inch (3 cm) cubes
salt and freshly ground pepper, to taste
Instructions
In a medium saucepan, over medium heat, bring the white wine to a simmer.
Add the cheeses and stir until cheese is melted and smooth. (At first the cheese and wine will look like it won't blend, but keep stirring. As the cheese melts it
will become more fluid.)
Combine cornstarch and water then stir into cheese mixture.
Continue to cook, stirring frequently, to a very slight bubble, but do not boil.
Add garlic, nutmeg and mustard, salt and pepper to taste. Stir more vigorously to combine.
Serve in fondue pot, keeping warm at low heat.
Per serving (466 g): 1239.1 calories, 71.5 g protein, 110.7 g carbohydrate, 18.5 g fibre, 16.4 g sugar, 50.4 g fat, 25.9 g saturated fat, 0 g trans fat, 130.2 mg cholesterol
Wine pairing suggestion
Chardonnay is an obvious choice in this case, a popular and versatile grape grown in many countries. Old world Chardonnay is crisp and lively showing citric fruit aromas. Stone fruit or tropical fruit aromas are more typical of new world Chardonnay. The choice is yours! To ensure consistency use the same wine in the preparation of the fondue.
This and other great recipes can be found in our Inspired by Mustard Recipe Book available for download here.
Recipe Information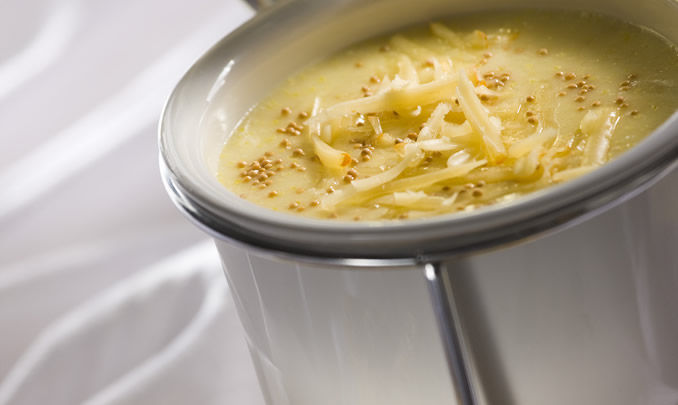 Recipe Name
Stone Ground Mustard Cheese Fondue
Recipe Author
Published On