Prep time: 35 minutes Serves: 12 people (3 per person)
Ingredients
1 lb (500 g) fresh pork or smoked cocktail sausages (approximately 36)
1/3 cup (75 ml) prepared mustard
1/3 cup (75 ml) maple syrup
1 clove garlic, minced
Instructions
Preheat oven to 350º F (180º C).
In a non-stick fry pan, cook sausages over medium heat until browned on all sides. Transfer sausages to ovenproof casserole dish.
Mix syrup, mustard and garlic and pour over the sausages. Mix well.
Bake uncovered 20 to 25 minutes or until bubbling and browned on edges.
Per serving (74.6 g): 211.7 calories, 6.5 g protein, 11.3 g carbohydrate, 0.3 g fibre, 0.1 g sugar, 15.8 g fat, 5.6 g saturated fat, 0 g trans fat, 35.9 mg cholesterol
Recipe Information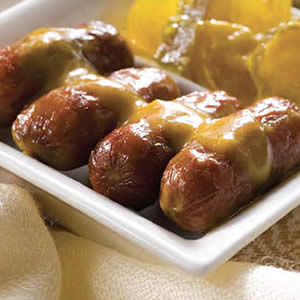 Recipe Name
Maple Mustard Cocktail Sausages
Recipe Author
Published On
Preparation Time
Cook Time
Total Time