Prep time: 40 minutes Makes: 5 cups (1.25 L) Serves: 70 (1 1/2 tbsp / 20 ml/serving)
Ingredients
1 1/3 cups / 325 ml granulated sugar
1/2 cup / 125 ml red wine vinegar
3 tbsp / 45 ml olive oil
1/2 tsp / 2 ml cumin
1/2 tsp / 2 ml fennel
1/2 tsp / 2 ml yellow mustard seed
1 cup / 250 ml sliced red onion
1 – 1 1/2 inch / 3.75 cm piece fresh ginger, peeled, cut into matchstick-size strips
1 tbsp / 15 ml minced, seeded Serrano chile pepper
3/4 cup / 175 ml water
1 lb / 500 g fresh or frozen cranberries, thawed
1/2 cup / 125 ml dried cranberries
1/4 cup / 60 ml orange peel, cut into matchstick-size strips
pinch salt
Instructions
Measure, prepare and set out all ingredients and utensils prior to beginning actual recipe.
Bring sugar and vinegar to boil in heavy small saucepan, stirring until sugar is dissolved. Remove from heat and set aside.
Heat olive oil in large saucepan over medium heat. Add cumin, fennel and mustard seed. Stir until mustard seed starts to pop, about 2 minutes.
Add onion and cook until beginning to brown, stirring continuously, about 6 minutes.
Add ginger and chile peppers. Stir until chiles soften, about 2 minutes.
Add vinegar mixture, water, cranberries, orange peel and salt.
Simmer until juices thicken, stirring often, about 20 minutes. Cool, cover and chill. Place in jars.
Keeps well in the refrigerator for 3-4 days. Freezes well.
Per serving (70.92 g): 26.94 Calories, 0.06 g protein, 5.55 g carbohydrate, 0.29 g fibre, 4.96 g sugar, 0.63 g fat, 0.09 g saturated fat, 0 g trans fat, 0 mg cholesterol, 5.71 mg sodium
Recipe Information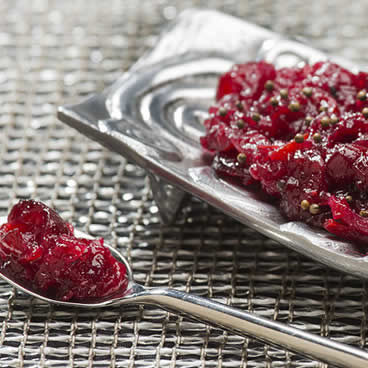 Recipe Name
Cranberry-Orange Chutney with Popped Mustard Seed
Recipe Author
Published On
Preparation Time
Cook Time
Total Time