This versatile recipe can be made into smaller patties as an appetizer, using the mustard-yogurt sauce on the side as a dip. It can also be served on a plate with a green salad, or in a whole-wheat pita. Do not boil sweet potato as that will add excess moisture to patties.
Prep time: 40 minutes Serves: 16 (1 patty plus 1 tbsp / 15 ml sauce/serving)
Ingredients
Patties
2 tsp / 10 ml brown mustard seed
1 1/2 tsp / 7 ml cumin
1 1/2 tsp / 7 ml coriander
1 – 19 oz / 540 ml can no-salt-added chickpeas, rinsed and well drained or 2 cups / 500 ml cooked chickpeas
1 1/2 cups / 375 ml cooked baked sweet potato, mashed
1 large egg
1/3 cup / 75 ml finely chopped walnuts
1/3 cup / 75 ml dry whole wheat bread crumbs
2 tbsp / 25 ml finely chopped onion
2 tbsp / 25 ml finely chopped cilantro
pinch cayenne pepper
2 tsp / 10 ml canola oil
Sauce
3/4 cup / 175 ml fat-free Greek yogurt
2 tbsp / 25 ml chopped fresh cilantro
1 tbsp / 15 ml prepared yellow mustard
1 clove garlic, minced
Instructions
Patties
Heat small fry pan over medium heat. Add mustard seed, cumin and coriander seed. Stir constantly until fragrant and just starting to brown, about 2 minutes. Remove from heat.
Gently press seed with back of a wooden spoon to crush slightly.
Combine chickpeas, sweet potato, egg, walnuts, bread crumbs, onion, cilantro, cayenne pepper and crushed seed in processor. Pulse until almost smooth, but with pieces of chickpeas and walnuts still visible.
Use a 1/4 cup (60 ml) measuring cup to scoop out mixture. Form into patties and place on lightly floured baking sheet. Place in refrigerator for one hour to firm up.
Heat large, non-stick fry pan over medium heat. Add canola oil.
Place patties in pan. Cook about 4 minutes per side, until browned.
Place on paper towel to absorb excess oil.
Serve with a dollop of mustard yogurt sauce.
Sauce
Combine yogurt, fresh cilantro, mustard and garlic in bowl. Refrigerate.
Per serving (110.87 g): 132.28 Calories, 6.02 g protein, 19.58 g carbohydrates, 2.69 g fi bre, 2.78 g sugar, 3.56 g fat, 0.35 g saturated fat, 0 g trans fat, 11.63 mg cholesterol, 95.41 mg sodium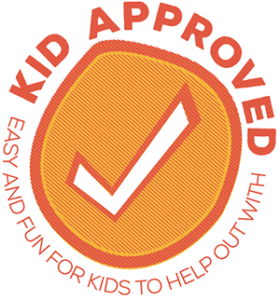 Kids love to play with their food – making patties is fun!
These and other great recipes can be found in Mustard Makeovers & More! 100 Marvellous Recipes for Busy Families available here from Amazon.ca.
Recipe Information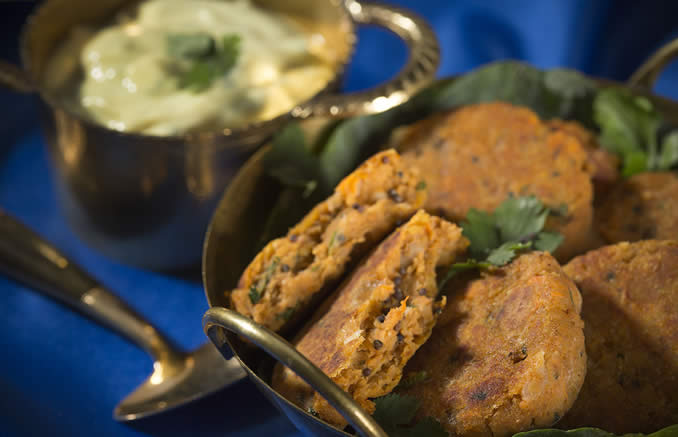 Recipe Name
Chickpea & Sweet Potato Patties
Recipe Author
Published On
Preparation Time
Cook Time