Whatever or however you celebrate, there is likely food involved. You may also be exchanging gifts with co-workers, friends and/or family. This is a great time of year to think of mustard and how you can #SpreadTheMustard. It is after all, a spice that's got a lot to give.
We agree with BBC, "Homemade Christmas gifts are so fashionable (and inexpensive) – but full of personality and love." Check out their homemade present ideas for your loved ones, including Homemade Beer Mustard. You can also order a copy of Mustard Makeovers & More from amazon.ca for recipes like Mediterranean Mustard Triangles.


We think personalized mustard is sure to hit the spot. With so many options, you can make it as spicy and smooth as you wish and use various add-ins for additional flavour. Let our Make Your Own Mustard Board on Pinterest lend some inspiration and watch our quick video to see how easy it really is.
https://www.youtube.com/watch?v=TKxXAfvLbKk

Keep warm and keep things simple, yet bold and flavourful.
We know it's a busy time of year, but soup is a great way to cook big batches for leftovers or ensure you're still getting in your veggie servings. Our Simple Tomato Soup with Grilled Cheese and Mustard Croutons from the #MyMustard collection is a twist on your childhood favourite.

Featured Recipe
Chances are high that you'll be entertaining or asked to bring an appetizer somewhere this month. Again, keep it simple and somewhat traditional with our Maple Mustard Cocktail Sausages from the Inspired by Mustard collection. We know you're busy and want something homemade, so get these in the oven while you wrap those gifts!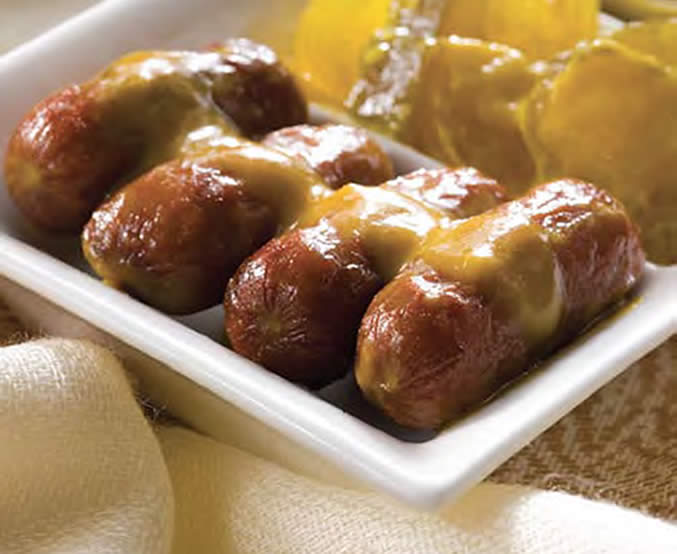 For more recipes like this one, order your copy of Mustard Makeovers & More.