Welcome to 2018!
You may be thinking about the start of a new year, reflecting on 2017, trying to get through winter or perhaps you're still working on a New Year's resolution. We have a suggestion:
"I resolve to 'yellow-vate' my cooking this year, spice up my life, and create delicious, flavourful dishes for my family.
I pledge to #SpreadTheMustard in 2018!"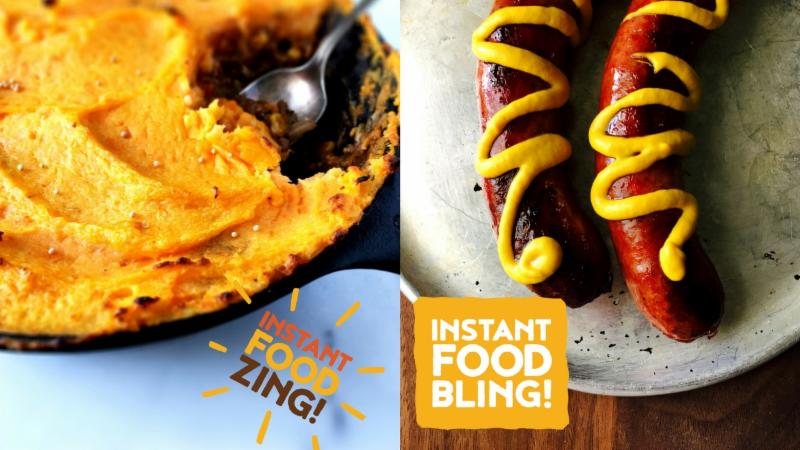 Add some ZING! by incorporating mustard's bright flavours into your dishes or garnish with BLING! by drizzling your favourite mustard preparation or topping with a dash of the colourful seeds. Often goals for January are aimed at health. By cooking at home you're able to control what goes into the food, how big the portions are, and can reduce things like salt; if that's important to you. Luckily, mustard adds a lot of flavour with little or no sodium involved.
Congrats to our Winners!

Congratulations to Dale Stevens of Calgary and Tanya Myrfield-Wolfe of Saskatoon who each received this great mustard gift set with their very own copy of Mustard Makeovers & More! and a sleek wood cutting board for sharing the love on social media!

Follow us on Instagram or Like our Facebook Page for more chances to win awesome mustard swag!
January also happens to be #SlowCookerMonth and we hate to miss a chance to celebrate national food days. You must try the Savoury Slow Cooker Pork Roast with Mustard and Apples from our #MyMustard collection. Apples, herbs and two kinds of mustard ensure the pork has a lovely balance of both sweet and savoury flavours.
If you're planning to eat more vegetables this year, soup can be a great way to get more in a flavourful way. Plus, big batches of soup are great for leftovers, helping you cook once, but eat twice. You may also be trying to fend of cold and flu season, so we suggest using #NationalSoupMonth to help you feel soup-er!
Keep a warm bowl or cup ready for those cold days; we've pinned more ideas for you on our Soup Recipes with Mustard board.
Otherwise, our Best Ever Slow Cooker Ribs from Mustard Makeovers & More! are sure to hit the spot. We don't call them "Best Ever" for nothing! Plus, you can substitute yellow prepared mustard with hot mustard for added heat (if you're not getting a winter escape to the beach this year).