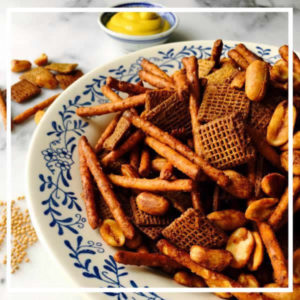 As you prepare for the busy month ahead and the New Year to come, don't forget to take care of yourself and enjoy delicious food along the way. Whether you're cooking up something great or savouring the creations of your friends and family, a homemade item adds a lot of thoughtfulness and mustard adds a lot of flavour to the holiday season.
Mustard may already be included in your holiday feast, as it is part of Trisha Yearwood's Christmas Eve Dinner. If you're sticking to an established menu or exploring new culinary ideas, mustard accompanies many holiday staples. Use it to help intensify your dishes and make your ham or roast turkey even more delicious.
Or try MOZZARELLA STUFFED TURKEY MEATBALLS IN A LEMONY MUSTARD PESTO SAUCE from our #MyMustard collection (available online, or we can send you a copy for the cost of shipping, just email us info@spreadthemustard.com). They're great as an appetizer or alternative to a whole turkey.
CHECK OUT OUR CHRISTMAS BOARD ON PINTEREST for some new ideas to add to your family traditions. We also have turkey and cranberry recipes like CRANBERRY-ORANGE CHUTNEY WITH POPPED MUSTARD SEED and TURKEY & SMOKED GOUDA PANINI WITH CRANBERRY BUTTER in the Mustard Makeovers & More cookbook – it makes a great gift for the foodie, home cook or chef on your list.
If you prefer to give food as gifts, BROWN BUTTER & MUSTARD RICE CRISPY TREATS, the BUMBLEBEE BROWNIES (watch Chef Dana Chadorf create them in our Mustard Makeovers & More test kitchen – featured above) or HONEY MUSTARD MUNCH MIX are sure to hit the spot!
For more recipes like this one, order your copy of Mustard Makeovers & More on Amazon.