Mustard can liven up your recipes and bring the heat or sweet when you crave it.
September 22 is the first day of fall, which means we're not only into harvest time, but also thinking about changing our menus. Perhaps soups, roasted vegetables, and casseroles are starting to pique your interest or maybe you're thinking about baking now that the temperature is starting to drop. Whatever you choose, mustard can liven up your recipes and bring the heat or sweet when you crave it. September also happens to be #HoneyMonth and we know honey mustard is a fan favourite.
Enjoy your garden goodies with  Oven-Roasted Root Vegetables – This hearty dish features beets, carrots, parsnips and rutabaga, along with whole grain mustard.
Be sure to check out our Chicken & Turkey board on Pinterest for some #ChickenMonth inspiration and to get ready for your upcoming Thanksgiving feast! Our new #MyMustard recipe collection's  Crispy Chicken Strips with Mellow Dill Mustard Dipping Sauce will also make a great weekday supper that everyone will love. Pair with raw veggies or a salad and you're set.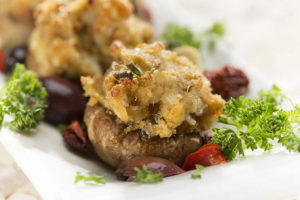 Mustard Seafood Stuffed Mushroom Caps can get you in the entertaining mood and are a perfect bite sized treat for #MushroomMonth.
Agriculture Month Kick-Off BBQ


September 29, 2017
11 am to 2 pm
Co-op Marketplace
402 Ludlow St, Saskatoon, SK
Join Farm & Food Care and their members as they launch their Agriculture Month campaign on September 29th at the Co-op Marketplace on Attridge Drive in Saskatoon. There will be local farmers and ranchers on site flipping burgers and all proceeds will be donated to the Saskatoon Food Bank & Learning Centre.
There will be interactive activities for kids, plenty of photo ops and a great opportunity to learn about Saskatchewan grown food!
Stay inspired by ordering a copy of Mustard Makeovers & More.